Primary Containment Coatings / Liners
Installation & Repairs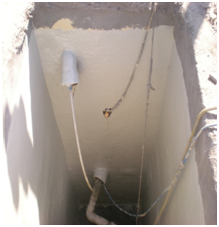 Substrate preparation, professional installation and quality control is why Python Corporation is your one stop concrete coating and restoration specialist.
At Python, we will never try to sell the customer more than they really need. In many cases, we are able to repair existing liners or coatings using approved methods recommended by product manufacturers. Preventative maintenance is the key here. Often when left undetected, entire liner and coating systems will be lost due to what started out as a small crack or chip, from mechanical damage or excessive concrete movement. We have trained personnel, highly regarded as specialists in the study of failed liners and coatings.
In addition to mechanical failures, we can also access the particular problem and determine if premature failure was a result of one or more of the following conditions:
Improper Mixing
High Humidity/Dew Point
Ambient and Substrate Temperature Too Low
Poor Surface Preparation
Product Application Installed
Outside Recoat Window
Osmotic and Hydrostatic Pressure
Delaminations, Etc.
In the initial stages, repairs are relatively simple and inexpensive, but left unattended the repair cost can be catastrophic. Python offers free inspections and budget estimates to our clients to help protect their investment. We are an approved applicator for most of the major manufacturers associated with high performance liners and coatings. Our work conforms to current ASTM standards. Don't ever be fooled into believing that all liners and coatings are created equal, nor should you be convinced that just anyone can install a quality product.
Call Python today.
Copyright © Python